Trouble Free Bathroom Tips
In one of my post  I mentioned toilets as essential and important part of our comfort. (yes, you should admit it..;)
Here I want to write not only about toilet, but about bathroom generally.
True, unless you want to live like a tough spartan guy, making a really comfortable bathroom takes some effort.
The trick is to understand what kind of problems you might face while using a bathroom (you might already be facing some of them in your existing bathroom), so you can act accordingly to solve it.
Problem of little space. It might be one of most annoying thing actually. Especially if you are not a tiny lizard, who can push through every crack easily. Here are some tips to help you solve little bathroom space problem:
1. Wall moving.
If you are ready for major changes just move your nonbearing walls as far as possible ;)
Unfortunately, moving one of the walls can have its pros and cons.
Notice, that in an example, after wall moving, bathroom space is enlarged but attached bedrooms loose some of their privacy as their entrance doors openings are moved directly into dining & living rooms.
So, before doing such cardinal changes, set priorities and act accordingly.
Example by KayStudio Architects
Example by KayStudio Architects
2. Plan space wisely.
Here are some examples of the bathroom layouts, showing efficient allocation of bathroom features, for your comfortable bathing time.
As you can see on the pics, usually toilet is not located opposite to the bathroom door.
Example by KayStudio Architects
Example by KayStudio Architects
3. Choose space-saving bathroom features. 
There are really many options to choose from in the market nowadays. You can find such space-saving bathroom features as: corner showers with sliding doors, tiny bathtubs with shower, wall-mounted modern toilets, and so on.
Pic. Courtesy: drop.com
Pic. Courtesy: albionbathco.com
4. Avoid overstuffing.
Have you ever considered that the problem might not be with bathroom but with you !!
Yes, if you possess toiletries and gadgets and bottles and boxes akin to the picture then be warned that no bathroom redesign can help you.
I know a friend who don't even throw empty shampoo bottles or old toothbrushes – why ? because everything seems to be useful for certain later occasion (which never arises).
The lesson is – get rid of stuff on regular basis.
Even after conscious effort to get rid of it, you find too much stuff lying around just remember this Japanese mantra : "a place for everything, everything on it's place". And thank them for this everlasting piece of wisdom;)
Pic. Courtesy: mtlhhf.com
5. Use enough lighting. 
The humble light bulb or lamp is a wizard of interior design.
Wisely installed it can do wonders with a small place, make it look bigger and full of air, and even spacious and stylish. (I am going to dedicate one of my next posts to lighting as there is a lot more to say about this humble but powerful creature.)
As for now, I give you one more hint-Installing of dimmers will help you to control your wizard and enable you to save money on your electricity bill.
Pic. Courtesy: decoragogo.com
6. Create visual illusion.
Any small space looks bigger if its walls are white or light colored without any pattern on them. If furniture and bathroom appliances are similar colored it will increase this visual effect.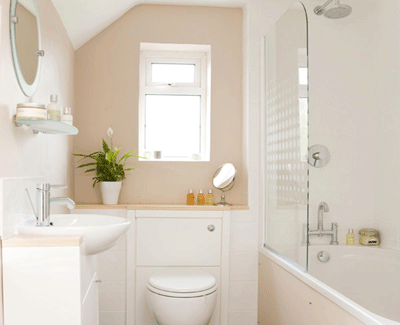 Pic. Courtesy: lushome.com
Vertical lines will make your bathroom look taller. It can be not only vertical pattern on the walls but also shower cabin walls, tall niches,  shelves and mirror from top to bottom of the walls,  and so on.
Pic. Courtesy: hgtv.com
If your bathroom walls are disproportionately tall use horizontal lines to make it look shorter. Walls patterns, use of different materials on lower and upper parts of the walls, standing out
bath tub, long vanities and shelves – all of it will do.
Pic. Courtesy: houselooks.net
If you extend floor pattern to the wall it will make effect of the seamless bigger bathroom space.
Pic. Courtesy: hipvan.com
Pic. Courtesy: bhg.com
7. Use every niche possible for storage and shelving.
Or you can even create more niches yourself by literally going through the walls and removing some parts of it;) just check first that selected wall is nonbearing and there is no plumbing or electricity wire on your way…
Pic. Courtesy: facewood.co
Pic. Courtesy: homedit.com
Pic. Courtesy: bhg.com
8. Make a window.
If there are no construction restrictions, making window is a good idea not only for making your room look bigger by letting natural light to come in, but also can help you to prevent nasty smell and mold appearance.
Cover your window with light curtain, install it high on the wall or consider skylight/ sun lighting tube as an option (in a case of private house reconstruction).
Pic. Courtesy: fohomes.com
Pic. Courtesy: fithomedecor.com
9. Right doors.
Bathroom door which opens outside will not take space of your bathroom at all. Same things with sliding or pocket doors (but they are harder to maintain and more expensive).
Pic. Courtesy: theberry.com
10. Mirror & co.
This is one more visual space expanding trick – especially if mirror is from floor till the ceiling.
Don't frame it heavily, or better no frame at all ;)
Apart from the mirror, you can use shiny metal faucets, glass accessories and glossy surfaces which make your small bathroom interiors feel weightless.
Remember the more light is reflected from different surfaces, the better. (in reasonable quantities, of course).
Pic. Courtesy: astoryforbedtime.com
11. Curves.  Curves not only feel more welcoming than sharp angles in a tight space, but also are much safer as you will not be able to hurt yourself  on the sink sharp corner every time you are in a hurry ;)
Pic. Courtesy: fixmytweet.com
Problem of nasty smell
1. Natural Ventilation.
If you notice, your bathroom door has little gap between its bottom and floor. No, manufacturers don't try to save on their doors materials in this way..;) this gap provides free air flowing, which together with bathroom window and exhaust fan make proper ventilation.
Pic. Courtesy: thebloggess.com
2. Exhaust fan.
This small but powerful bathroom feature will not only remove bathroom smells but also can decrease humidity after your hot showering. As you know, high humidity can cause mold appearance and features rusting, so it's better  not to neglect good exhaust fan installation.
Pic. Courtesy: ordinarybathroom.blogspot.in
Mold horror
1. Ventilation.
Yes, again and again - ventilation. Make sure that exhaust fan vents air from your bathroom directly into outside open space. Otherwise mold can appear in the part of the building attached to the bathroom where moist air is vented.
Pic. Courtesy: greenbuildingadvisor.com
 2. Leakage prevention.
If leakage happens constantly and especially in some hidden place (i.e. under wall paper) it can cause mold appearance there – which is worst as you don't know about its existence.
Pic. Courtesy: lemurzone.com
3. Right walls and ceiling material.
Nowadays most good manufacturers have special line of materials for such wet areas as bathrooms. So, before buying any walls
and ceiling material make sure it can stand high humidity, waterproofed and mold resistant.
4. Epoxy grout.
It will not let water and moisture come under your tiles. No moisture – no mold ;)
Pic. Courtesy: indiamart.com
Rust & lime scale
1. Can't repeat it too often – but even in this case
quality ventilation is the must.
2. Choose right tub & shower mixer. Brass, bronze or copper mixers do not oxidize and rust (and I mean not coating but mixer material itself). Check that your mixer is not steel under the shiny chrome or any other layer on top as it will be destroyed in 3-5 years – or even faster.
Pic. Courtesy: findtaps.co.uk
Safety
1. Slippery floors.
Slip-resistive porcelain ceramic, marble and stone floor tiles are quite helpful in this case.Other options are: vinyl and rubber flooring – only they look less elegant. You can also choose slip-resistive treatment to the surface of your existed slippery tiles.
Remember about mats and grab bars – in the shower, bath tub and on the floor.
Another trick – choose smaller tiles. Why? Small tiles need more grout to install it which is not slippery. Simple.
Pic. Courtesy: safefloorsolutions.com
2. Electric shock.
Remember to install Ground Fault Circuit Interrupter (GFCI). 
Of course don't use any electric devices next to the running water.;)
And if you want to listen to music while showering use special waterproofed speakers.
Pic. Courtesy: chaneyelec.com
3. Hot water. 
Imagine, you are taking your bath in serenity, when suddenly water from shower is becoming too hot to enjoy it. Thermostatic mixer tap will save you from this trouble.
Pic. Courtesy: byretech.com
Well, this is it. Hope these tips will help you to create a trouble free bathroom and avoid any bathroom maintaining hassle.
 Bathroom Design by Kay Studio Architects
Please reload